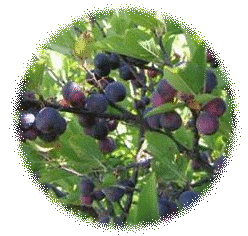 Beach plum is a small edible fruit that grows on shrubs native to the northeastern coast of North America, for example Long Island, New York. Its deep roots protect the sand dunes at beaches.

Plum Island, New York, is located only about one and a half miles from Long Island and was named after the beach plums growing there. This restricted island has Biosafety Level 3 (BSL-3) disease research facilities operated by the U.S. Department of Homeland Security. The laboratories are known as the Plum Island Animal Disease Center (PIADC) and have been operating for over 50 years.




The beach plum photo above is from the U.S. Fish & Wildlife Service (http://www.fws.gov).

The photo of beach plum flowers with a honey bee is from the U.S. Department of Agriculture (http://www.nj.nrcs.usda.gov).